First-Class Kitchen Cleaning Services
The kitchen is the centre of activity in a home, the busiest place there is. It is a sacred part of the home in Indian culture. It's a place where one prepares food to feed the entire family, and such a place must be clean. An unhygienic cooking area can be an open invitation to several diseases. This is why you need to clean the kitchen by yourself or make use of a kitchen cleaning service.
We know you try to keep your kitchen clean by dusting and wiping the kitchen countertops, washing area, sink, containers and surfaces. But it isn't enough! So many places in the kitchen cannot be cleaned regularly or are hard to reach. The need for professional kitchen deep cleaning services arises from grease and dirt accumulating on the cabinets, near the stove, chimney hood, walls/tiles, and corners. The need arises because of the stinking washing sink and washing area. The need also arises when the stains are hard to remove. 
What Are the Benefits of Professional Cleaning of the Kitchen?
When you go for deep cleaning of the kitchen, you say yes to health, and you say yes to a clean kitchen environment. Below are some benefits of a kitchen deep cleaning service in Bangalore.
Cooking is an art! It comes out most beautifully when we do it with utmost love and happiness. Clean kitchen surroundings, equipment, and appliances can give any homemaker peace of mind and great happiness.

A

clean

kitchen

means

fewer germs in

the

corners

or

pipes,

thereby

improving

your

kitchen

space's

hygiene.

Most good

kitchen cleaning service

s

can help you achieve this

Food must be prepared in a hygienic space only. And professional deep cleaning ensures that there are fewer chances of food getting contaminated, therefore, reducing foodborne diseases.

Regular

kitchen deep cleaning service

by professionals ensures the prevention of pest infestation. Also, there will be fewer chances of rodents and insects making a home inside your kitchen space.

 
Kitchen Cleaning Prices for One Time
Note:
Orders

 placed with us must have a minimum value of ₹1750.

Above prices is exclusive of GST.
What Areas of the Kitchen Will Be Covered by CleanPro?
Professional kitchen cleaning is a detailed and thorough process that includes cleaning hard to reach areas inside your kitchen. If you are thinking of availing CleanPro's kitchen cleaning service, we are going to cover the following:
Washing and sink area:

This is one of the most important areas where there is a great need for deep cleaning. Around the washing area or in  the sink drainage pipes, the leftover food often gets stuck and accumulates, giving rise to a plethora of germs and bacteria.


Countertops:

Although countertops are often wiped with damp clothes regularly, more is needed. Deep cleaning is necessary to remove the tough stains.

Tiles:

Often, tiles which are beyond the hand's reach (close to the ceiling) cannot be cleaned regularly. Therefore, there arises a need for a kitchen cleaning service as they become greasy over time. Usually, tiles around the stove get stubborn food stains, and scrubbing them with specialized solutions and equipment only can remove them.

Stainless steel taps and fixtures:

Stainless steel taps and fixtures get stubborn hard water stains which professional deep cleaning alone can remove.

Cabinets:

Cabinets around the kitchen stoves usually get greasy and black. It is tough to get it completely removed with a damp cloth. Deep cleaning with the right equipment and solutions can easily remove greasy black stains.

Floor:

We will also thoroughly clean and sanitize your floor using specialized solutions or detergents. Our experts will inspect and remove all the stains from the floor, restoring the old charm!

Kitchen Appliances, Fans and Tube Lights:

In our kitchen deep cleaning service, we include cleaning kitchen appliances like the gas stove, burner, chimney hood, oven, exhaust fan, toaster, refrigerator, microwave, kitchen fan, tube lights and more.

Corners:

Corners in the kitchen usually get cobwebs. Our deep cleaning service removes cobwebs from all the corners of your kitchen, including hard-to-reach areas.
Doors, Door Handles, Switches and Switchboards:
These are generally overlooked in deep cleaning but are also very important. Therefore, we have included them in our kitchen cleaning service.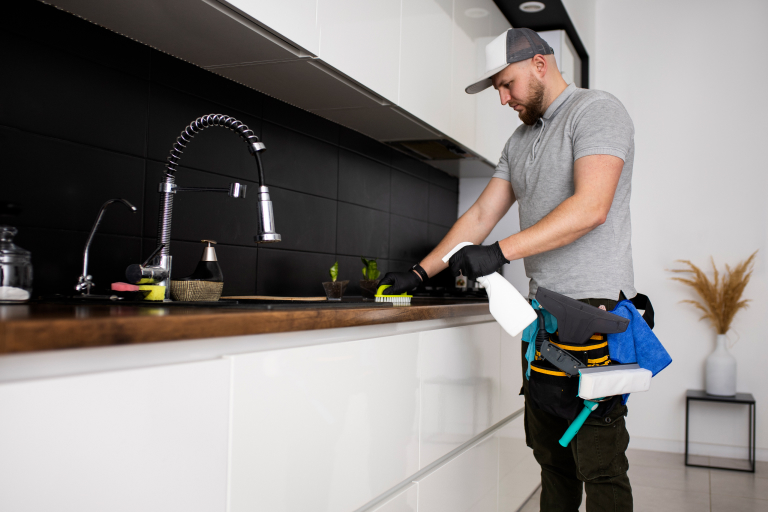 We dust and wipe every spot in your kitchen area where the grease or dust has accumulated, bringing back the sparkle to your kitchen space. We also disinfect the drainage pipes, floors and other spots in your kitchen which could contain germs.
Our kitchen cleaning services in Bangalore is professional and thorough and is performed by a team of experts. We use cleaning solutions, chemicals, and disinfectants with no side effects. Offering high-quality service at competitive prices, we are a one-stop destination for all kitchen cleaning and sanitization services.
Contact us, and we will coordinate with you to schedule a kitchen deep cleaning service.